Getting Started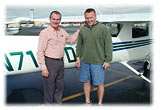 Most people are under the impression that you need perfect vision, or you need to be a rocket scientist to learn how to fly. These are simply myths. All you need is the desire to soar through the sky. No matter if you want to fly for fun and recreation, or as a professional pilot, Regal Air can accommodate your instruction need.
First Steps
The first thing you need to do is take an introductory flight to make sure this is something that you want to do. You know, "try before you buy". Next, shop the flight schools in your area. Some of the things that you will want to check out are:
Does the airfield have a Control Tower? Radio work, even as a private pilot, is now an essential part of learning to fly.  Control towered airports offer the maximum in radio and training operations.
Aircraft Selection: Does the flight school offer enough aircraft to accommodate your schedule? Will there be another similar aircraft available if your favorite is in for maintenance?
Aircraft Maintenance: What is the working condition of the aircraft? Have all of the FAA guidelines for flight instruction and rental been met? Is the maintenance done in house or does the flight school need to wait until the local shop can fit the aircraft into their schedule? Do the discrepancies get fixed in a timely fashion?
Staff: Is the staff friendly and knowledgeable with your best interest in mind? You are going to be making a significant investment of time and money and it should be informative, efficient, and most of all, fun!.
Instruction: Are there enough available instructors? Do you have the option of finding an instructor that fits your personality and learning style? How about an instructor that is available when your schedule permits flight time?
Fuel: Are you required to fuel the aircraft yourself or do they have staff to do that for you? This can take a lot of time and cuts into your training lesson.
Cost: Are there any club joining fees? Annual or monthly fees? What is the cost per hour for the selection and availability of aircraft and instructors?
Be a Pilot
Once you've decided that flying is the thing for you and you've chosen Regal Air as your flight school, let us help you obtain your pilot certificate with our FAA approved training syllabuses. Don't just take our word for it, take an introductory flight lesson. You will experience all there is to flying with an FAA certified flight instructor who will guide you to being a pilot!
Call us to schedule an introductory lesson for you or a friend!