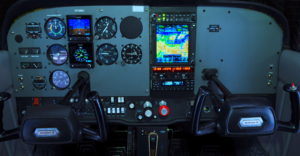 As you can tell by the picture above, N738BU's upgrade is complete!
As we mentioned a few weeks ago, the upgrades include:
Garmin GTN750 Touch Screen IFR GPS/NAV/COM
King KX165A Nav/Com
Garmin GTX345 Transponder w/ADS-B In and Out Traffic
Garmin G5 Attitude Indicator
Garmin G5 DG/HSI
One of the big benefits from these upgrades is that this aircraft no longer has a vacuum system. Each of the G5s (the AI and DG/HSI) has a 4-hour battery backup!
We're expecting this to be one of our most popular aircraft to rent, so be sure to book a flight soon!
Schedule a Flight
Click Here for Garmin G5 Info
Click Here for the G5 Pilot Manual (PDF)